As the era of innovative applications in 5G and AIoT, Internet of Everything (IoE), and Cyber-Physical integration emerge, it position smart displays as the pivotal medium. AUO has long been dedicated to cultivating next-generation display technologies and cross-domain integration in the Micro LED industrial chain, spearheading its strategic deployments to complete the smart display ecosystem layout. At Touch Taiwan 2023, AUO and its ecosystem partners will showcase a variety of modules, systems, and solutions ranging from LED chips, mass transfer technology, and packaging, highlighting its crucial milestone in the commercialization of Micro LED technology. As AUO pioneers mass production of the 1.39-inch Micro LED Smartwatch, it signals the start of end product development and sets sail toward the new blue ocean in smart living.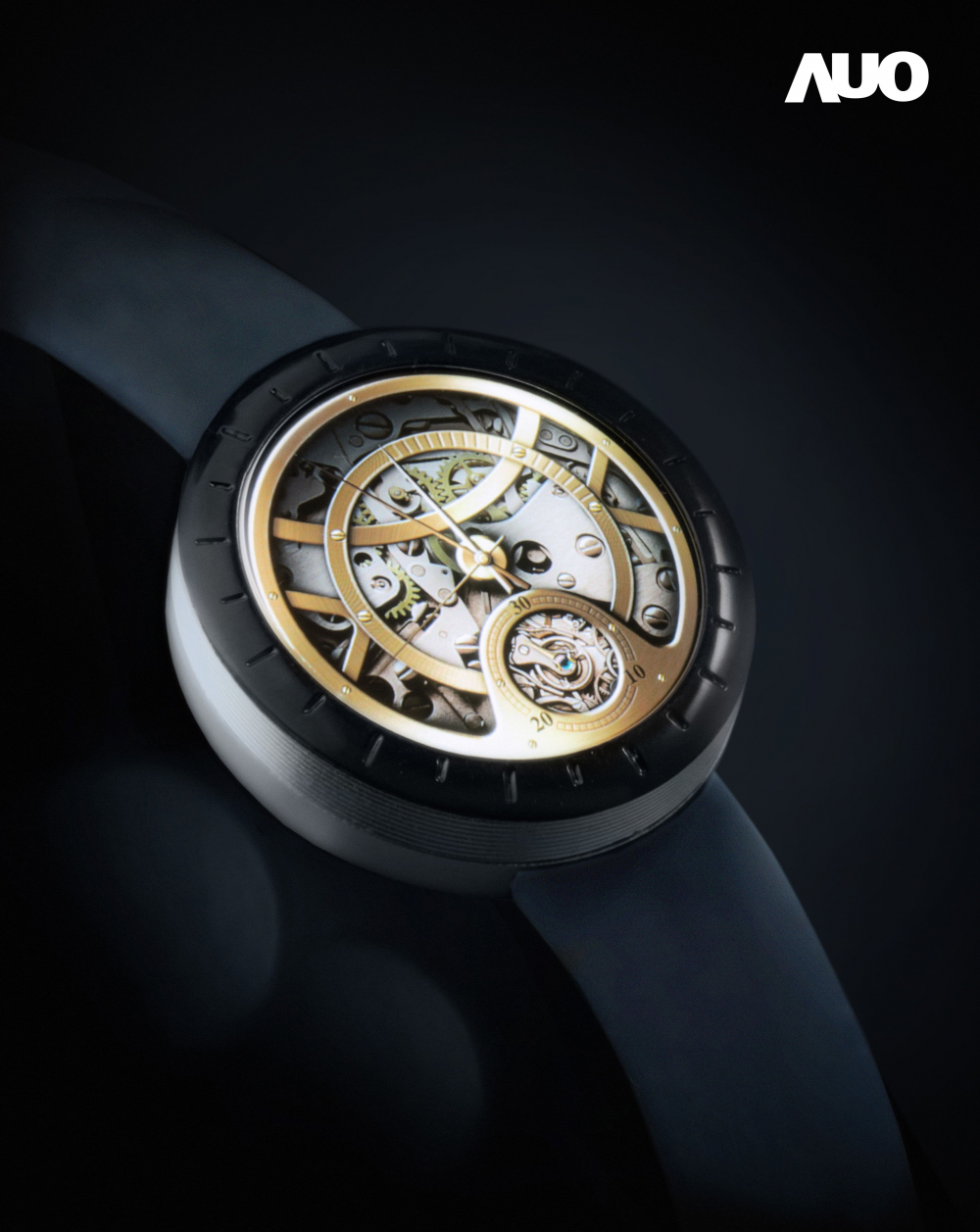 AUO integrates the cross-domain Micro LED industrial chain, spearheading strategic deployments to complete the smart display ecosystem layout, and pioneering the mass production of the 1.39-inch Micro LED Smartwatch
AUO Strategizes Preparedness in Optimizing the Micro LED Ecosystem Layout Completeness
Micro LED displays offer advantages including high brightness, high contrast, wide color gamut, wide viewing angle, and high reliability. Furthermore, 4K2K displays consist of millions of microscopic LEDs similar in size to butterfly scales. When combined with AUO's leading low-temperature poly-silicon (LTPS) active driving method, inorganic LED materials, and self-emitting features, they create near-perfect display quality with faster response times, longer lifespans, and ultra-high transparency. Likewise, its flexible, bendable characteristics overcome various constraints in display applications, providing a more agile digital lifestyle and broadening the future of visualization; AUO is the pioneering force at the forefront of revolutionizing next-generation displays.
Since 2012, AUO has been investing in the technological developments of Micro LED, continuously cultivating its display technologies and manufacturing capabilities, and has launched a series of industry-leading, differentiated products for diverse applications in various fields. To accelerate the commercialization process, AUO leads the display industry with its accuracy in mass transfer technology and integrates its supply chain to establish a complete Micro LED ecosystem, which includes collaboration between its suppliers of Micro LED component resources from Ennostar and PlayNitride; Micro LED chips can be mass transferred onto AM-TFT backplanes with precision. Additionally, AUO jointly develops Micro LED display driver ICs with Raydium Semiconductor, partnering with BenQ Materials to co-develop surface treatment and decoration materials for packaging and utilizing AUO's accumulated image calibration technology in the display industry to provide more vivid, realistic, and astounding visual performances. AUO rallies the display, LED, precision machinery, and the semiconductor industry in forging a full-scale industrial alliance that provides full-ranged Micro LED solutions, gradually realizing the commercialization goals and embracing the mass production of Micro LED.
Strategizing the Layouts in Innovative Display: Releasing the World's First(*) Micro LED Smartwatch
Driven by the product demands of end customers, AUO has established a complete Micro LED industrial chain and accelerated the development of the world's first(*) commercially available Micro LED wearable device. Following the exhibition of the world's highest pixel density 1.39-inch Micro LED display in 2021. This year, AUO successfully overcomes technological barriers through the maturity of related equipment and component developments, launching its 1.39-inch commercialized smartwatch. In addition to adopting circular designs that conform to smartwatch aesthetics, it features high pixel densities of up to 326 PPI (Pixels Per Inch), providing richer color saturation and higher contrast ratios, improving the wide-angle color shift and lifetime of high brightness display, meeting the demands in energy efficiency and display clarity under outdoor environmental lighting conditions. As the forerunner in commercialized Micro LED mass production, this smartwatch represents the revolution in next-generation display technology.
Breakthrough in Micro LED Transparent Display Applications: Driving Visual Effect Enhancements in Smart Cockpits
In meeting the trend of smart cockpits, AUO redefines the in-vehicle usage scenario with Micro LED transparent displays; by utilizing the high brightness and high contrast features of Micro LED in combination with cover glass printing or structural customized optical films, the display panel can present different textures such as minerals or carbon fiber striations, thereby seamlessly blending the cockpit display with vehicles' interior trims. The immersive pillar-to-pillar Micro LED display ensures a continuous display-on-demand cockpit experience, guarantees information readability without interference, and can display standard texture when inactive.
Additionally, by integrating the 17.3-inch Micro LED transparent display with the 12.3-inch LCD display, AUO creates an in-vehicle naked-eye 3D experience that can be viewed from all angles. Furthermore, it incorporates the Driver Monitoring System (DMS) for detecting driver behavior and early safety precautions in advance. This technology can be applied to the future dashboards of self-driving autonomous vehicles, enabling a safer and more comfortable driving experience. Moreover, due to the high transparency and infinite expandability nature of Micro LED, following the creation of the transparent Micro LED smart ferry in Yawan, Kaohsiung last year, AUO is now showcasing its 60-inch Micro LED transparent window display that is customizable across various applications in the diversified field domain, including vehicle windows in transportation, residential interiors, commercial displays, and other applicable areas, enriching the visualization experience of information and entertainment content appearance.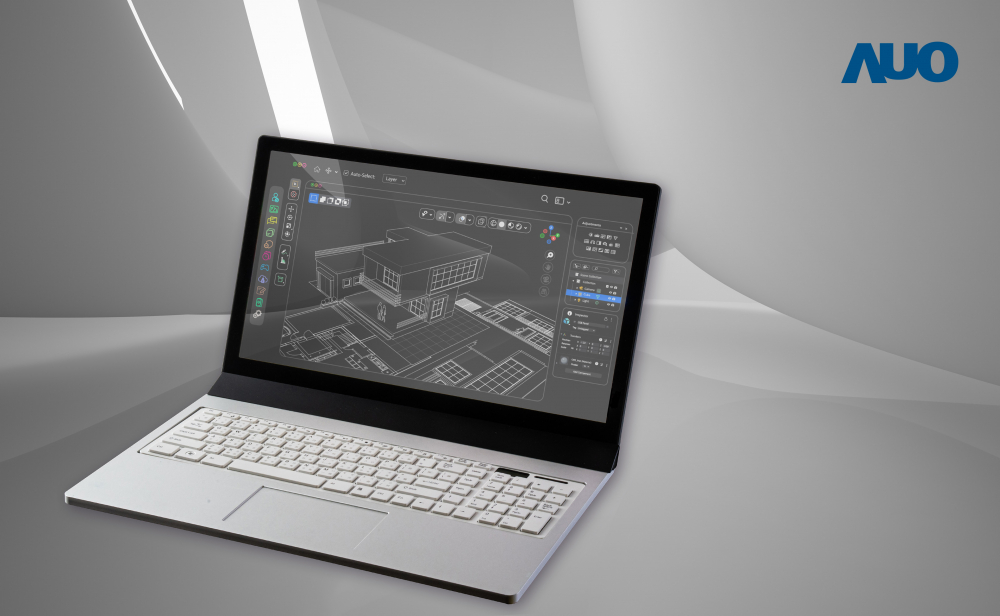 The 17.3-inch transparent Micro LED notebook display integrates electrically switchable transparency functions, featuring high-transparency panel display that enhances display quality under glare and extends field applications from low to high ambient lighting environments, providing non-stop exceptional experience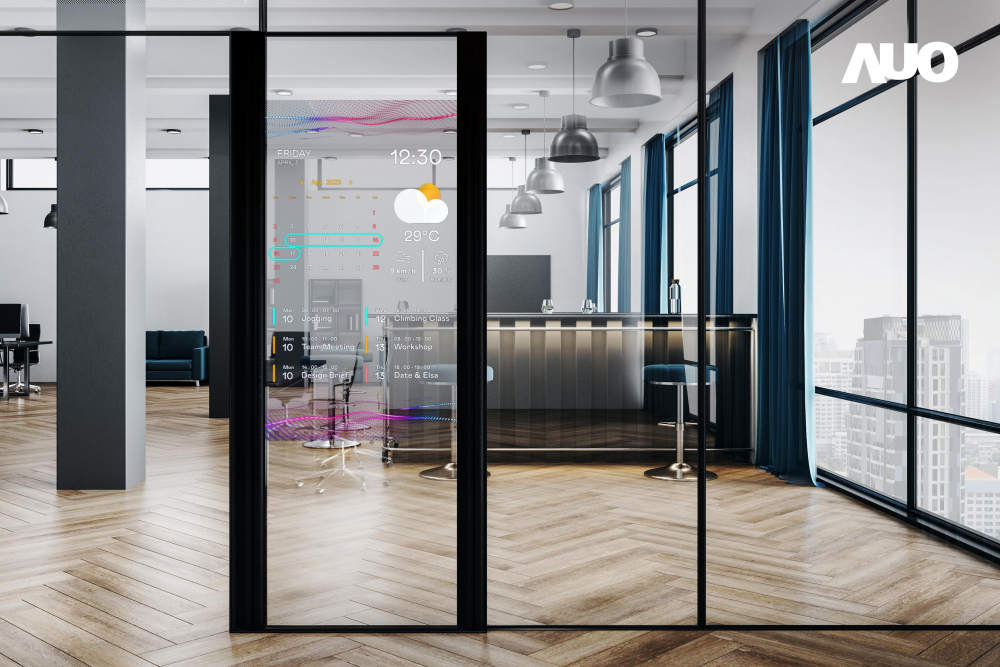 The 60-inch Micro LED transparent window display is customizable across various applications in the diversified field domain, including vehicle windows in transportation, residential interiors, commercial displays, and other applicable areas, enriching the visualization experience of information and entertainment content appearance
Elevating the High-End Entertainment Experience through a Range of Micro LED Consumer Products
While Micro LED transparent displays offer Augmented Reality/Mixed Reality (AR/MR) experiences, AUO integrates its 17.3-inch transparent Micro LED display with electrically switchable transparency function to develop high-transparency notebook products, enhancing panel display quality under glare and extending field applications from low to high environmental ambient lighting in providing non-stop exceptional experience from superior performance.
Drawing on its extensive experience in flexible panel design and display manufacturing, AUO has created the world's first(*) 14.6-inch foldable Micro LED display, featuring its exclusive foldable and bendable structure design. With a bending radius of only 4mm, it offers high-quality display and texture, delivering consistent brightness, contrast, and colors from any visual angle, promising to optimize user experience with foldable display products. Moreover, as part of its effort to elevate high-end entertainment, AUO breaks through the existing perception of conventional TV frameworks and introduces innovative forms of home entertainment by creating a 108-inch large-size Micro LED luxury TV with a modular and bezel-less design. The home cinema features theater-level vivid saturation and color volume, as well as clear and smooth quality, providing unparalleled, immersive enjoyment.
Founded on deep expertise in display technology, AUO integrates innovation into its ecosystem and is committed to creating highly customized vertical markets and developing differentiated products to accelerate the commercialization of further Micro LED products. During the exhibition, the 2023 Display Innovation Taiwan Conference will be held; on April 20, Ivan Wu, Senior Associate Vice President of Technology Development at AUO, will attend the International Micro/Mini LED Display Conference and deliver a speech on "Micro LED Display – The Way to Mass Production". We cordially invite you to join us at Touch Taiwan 2023 and experience the infinite possibilities brought by AUO's innovative display technology and field application solutions.
* Based on the available market research information as of April 12, 2023.